Clarence V. and Evelyn F. Amstutz Memorial Scholarship
Purpose: For graduating seniors of Dalton High School, based on need and merit. (Scholarship Fund)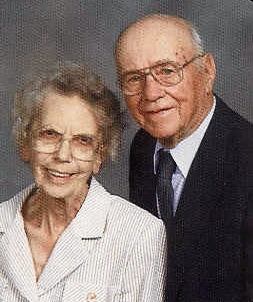 C.V. ("Jim") and Evelyn Amstutz
Jim Amstutz lived in the Sonnenberg community near Kidron, Ohio in the early years of his life. Being a part of a closely knit population and the second oldest of 11 children, he learned responsibility and a feeling for the community. He married Evelyn Mackey and they shared 65 years together. Evelyn was a teacher at Baughman Township Schools and later taught third and fourth grade at Tuslaw Local Schools. She had an abiding interest in the education of young people. Jim went on to become the proprietor of Amstutz Electric and kept his roots in the Dalton community. Their only child, Joanne, passed away from Multiple Sclerosis at age 41, after receiving her degree from Capital University in Columbus.
Many organizations benefited from the generosity of Jim and Evelyn. Both were active in The Dalton Presbyterian Church and the Dalton Historical Society. They also were members of the Ohio and Wayne County Historical Societies and The Wilderness Center. Evelyn and Jim were also noted for their interest in horticulture. Evelyn was well known in the area for the wide variety of daffodils that graced their home. They shared hundreds of flower bulbs with family and friends.
After careful consideration, their will left approximately 50% of their estate for endowed scholarships for Dalton High School graduates. This will be a legacy that will continue to serve the community that Jim and Evelyn loved so much.
« All Current Funds
Latest News
WCCF Announces The Women's Fund Grant Awards for 2018
WCCF is pleased to announce the 2018 grant awards from The Women's Fund totaling $20,000.
...read more
WCCF Announces 2018 Fall Competitive Grants
WCCF Board of Trustees approved grant awards totaling $199,450 to 14 organizations for the Fall 2018 competitive grant cycle.
...read more
Donor Stories
Carl Congdon and Susanna Congdon-McIntyre's famous lineage has always been very generous with their time, resources, and talents to serve the Orrville community. In fact, the very first bequest the WCCF realized came from Maud Congdon.