Helen Youngen Memorial Scholarship
Purpose: To provide renewable scholarships to seniors graduating from Norwayne High School. Applicants must have attended Norwayne High School a minimum of 2 years and have financial need. When possible, preference should be given to students from the Burbank, Ohio area. First preference to students who plan to study elementary education. (Scholarship Funds)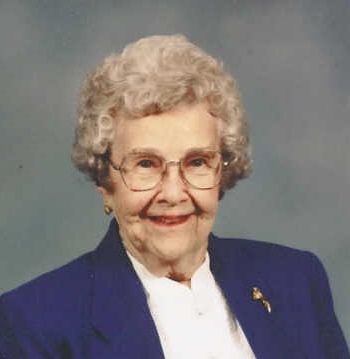 Helen Youngen
At various times in the years preceding her death, Helen Youngen indicated a desire to establish a scholarship for future elementary school teachers. It was her wish to provide money for a graduating senior from the Norwayne School District and specifically from the Burbank area whose academic goal was to become an elementary teacher. The Helen Youngen Memorial Scholarship was formally established in the spring of 2006.

Helen was in a classroom most of her life. Born Helen Roll on a farm near New Philadelphia, Ohio, she attended Tuscarawas County Normal School and Kent State College. Her first teaching position, in the 1920's, was in a one-room school. She continued to teach in the New Philadelphia Schools until her marriage to E.H. "Ty" Youngen, a school principal and coach. Her absence from teaching during the 1930's was due to the birth of a daughter, Lois, and perhaps because the educational policy of the times prohibited married women from teaching. During WWII, at the urging of her husband due to a nation-wide teacher shortage, Helen resumed her teaching career in Portage County, Ohio. In the 1940's, Helen moved with her husband, the new principal at Seville, Ohio, to LeRoy, Ohio, now Westfield Center. She taught at Seville and Leroy prior to settling in at Burbank School where she taught third grade for 17 years prior to her retirement in 1965.
As a former Burbank student wrote at the time of Helen's death in April, 2006, "I remember in the third grade it was the first space flight on television. Mrs. Youngen brought a TV to school, black and white, and the custodian hooked it up to a makeshift antenna. The picture was terrible, but the sound was good. We all gathered around to see the launch. How exciting! A man going into space and a television in the classroom." The student continued, "Amazing the impact a teacher has to cause me to remember these things 46 years later."
If you had asked her, Helen would have told you that she never thought of herself as an exceptionally good teacher. In fact, she would have been a bit embarrassed at the thought. She would probably say that she loved the students, enjoyed teaching and was just doing her job.
May the recipients of Helen's scholarship love students, enjoy teaching and do the job!