Wayne County Community Youth Foundation
The Wayne County Community Youth Foundation (YF) was established in Fall 2012 to provide educational and practical experiences on how community foundations operate for the purpose of getting students engaged in local "structured" philanthropy.
Thanks to the vision and leadership of Mr. and Mrs. Stanley C. Gault, the Donald and Alice Noble Foundation, the Sam Shapiro family, and the Wayne County Community Foundation Board of Trustees, a Youth Foundation fund was created so students can evaluate community needs and make grant recommendations for local non-profit organizations that support Wayne County, Ohio youth.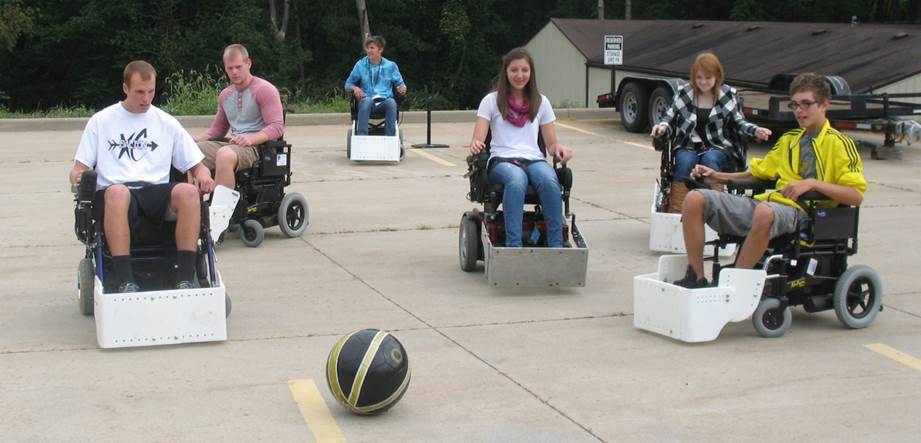 Youth Foundation students find out how challenging a game of wheelchair soccer is in the parking lot of Adaptive Sports Program of Ohio, in Wooster.
During the school year, students meet monthly on a Sunday, from 2:00-5:00 p.m. (only the first meeting in August will be from 2:00-6:00 p.m.), at a non-profit organization to get a better understanding of why the organization exists and how it serves the community.
For the 2016-2017 school year, there are 36 students representing 8 local high schools. Ferenc M. Relle, Jr. is the Youth Foundation Advisor.
The Youth Foundation will meet on the following Sundays for 2016-2017:
August 21, 2016 January 8, 2017
September 18, 2016 February 5, 2017
October 23, 2016 March 12, 2017
November 13, 2016 April 23, 2017
December 11, 2016 May 21, 2017
Last year, some of the local non-profit organizations where the YF met included ABLE, Adaptive Sports Program of Ohio, Alice Noble Ice Arena, CAMO, Christian Children's Home of Ohio, Every Woman's House/STEPS, Orrville Area Boys and Girls Club, Orrville YMCA, People-to-People Ministries, Poplar Ridge Adventures, Red Cross, Salvation Army, The Village Network, Viola Startzman Clinic, Wayne Center for the Arts, and United Way.
Anyone can donate to the Wayne County Community Youth Foundation Fund through the Wayne County Community Foundation. For more information about the Youth Foundation call 330-262-3877.

If interested in the grant guidelines and application process, see Wayne County Community Youth Foundation Grants.
Latest News
Grant Dollars Available to Wooster Elementary Level Schools -- Deadline March 1, 2017
For Wooster area elementary school educators, the Albert "Koby" Kobilarcik Educational Fund has funds available to provide library materials and literacy teaching aids.
...read more
GIVE 365 Wayne County Accepting Applications
GIVE 365 Wayne County is accepting grant applications from area nonprofits that focus on Drug Prevention in Wayne County. Deadline is March 1, 2017.
...read more
Donor Stories
Since 1978, visionary donors have been making gifts and creating Community Funds to address the community's most pressing needs.