What is the WCCF?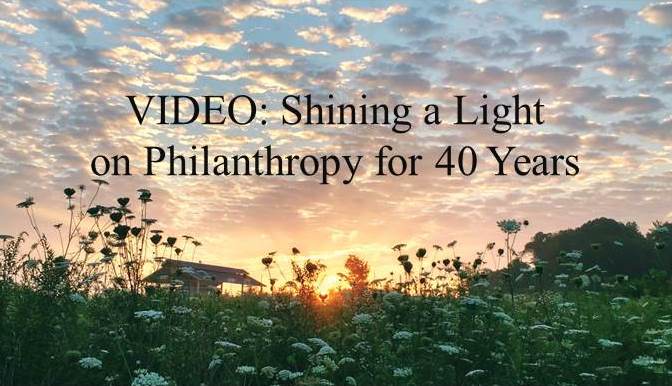 The Wayne County Community Foundation (WCCF) is a charitable community organization in Wayne County, Ohio, which was established in 1978 to accept contributions, create and administer funds, and make grants for the benefit of the people of the greater Wayne County, Ohio area. The WCCF is a collection of over 440 separate funds varying in size from a few thousand dollars to more than a million dollars. Each fund is separate with its own agreement, its own donors, and its own philanthropic purposes. Grants are only awarded to other charitable groups… 501(C)(3) organizations, schools, governments, and churches. The WCCF is a "public foundation" under the Tax Reform Act of 1969 and, as such, enjoys many tax advantages not granted to private foundations.
The WCCF's Vision, Mission, and Key Goals are linked together to support the WCCF's role in community philanthropy.
VISION
To effectively leverage Wayne County's resources to improve the quality of life in our community.
MISSION
To provide philanthropic leadership to our community
GOALS
1. To encourage individuals, organizations and businesses to share part of their resources for the good of our community.
2. To assist community charitable organizations in the creation and management of endowments.
3. To provide oversight of investment and disbursement of funds devoted to charitable purposes.
The WCCF, through its investment managers, invests the principal of each fund for the continued production of distributable income. It distributes that income, and under certain circumstances a portion of the principal itself, in accordance with the provisions of the instrument creating each fund. Grants are paid to a wide variety of organizations in the areas of arts, culture, and humanities; capital campaigns; civic and community; conservation and environment; education; health and wellness; human services; religion; and scholarships.
Responsibility for policy and direction is vested in a volunteer Board of Trustees. These Trustees are selected for their knowledge of local charities, their involvement in the community, and their expertise in the various aspects of the Foundation.
National Standards for U.S. Community Foundations
The National Standards Seal by our name indicates official confirmation from the Council on Foundations that we have met the most rigorous standards in philanthropy. It affirms our commitment to financial security, transparency and accountability. It says our grantmaking includes an open, competitive process designed to address the changing needs of our community. The National Standards Seal also confirms our history of honoring donors' wishes--to support the arts, cultivate gardens, save endangered species, cure illness, expand literacy, feed children--and support countless other important causes.
The National Standards for U.S. Community Foundations Program was established in 2000 in cooperation with the Council on Foundations. National Standards guide community foundations in establishing legal, ethical and effective operational practices that serve as blueprints for internal development and benchmarks for external assessment. The 43 National Standards require Wayne County Community Foundation to document its policies in donor services, investment management, grantmaking and administration. To receive confirmation of National Standards compliance, Wayne County Community Foundation submitted its organizational and financial policies and procedures to a rigorous peer review.
Latest News
WCCF's GIVE 365 Program Awards Grant
This year's GIVE 365 grant was awarded to the Boys and Girls Club of Wooster for their Collaborative Prevention Services for Youth in Wooster City Schools grades 5-12.
...read more
Wayne County Community Foundation Announces 2019 Spring Grants
The WCCF Board of Trustees approved grant awards to 16 organizations totaling $114,870.38 for the Spring competitive grant cycle.
...read more
Donor Stories
The Albert "Koby" Kobilarcik Educational Fund was established to honor Koby and his lifetime mission of sharing the Christmas spirit with thousands of people each year and to provide library materials and literacy teaching aids to local elementary level schools.