Margaret Hauenstein Memorial Fund
Purpose: To support charitable organizations in Wayne County, Ohio with preference towards libraries, deaf organizations & historical societies. (Community Fund)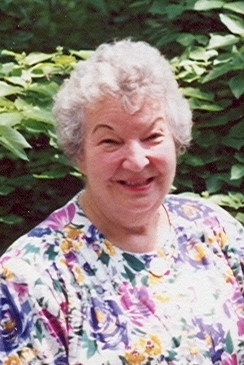 Margaret Lena Hauenstein
Margaret Hauenstein was born in Wooster, Ohio and received her B.A. from the College of Wooster. She graduated with the class of 1935, Phi Beta Kappa. Margaret was the first woman to serve full term as Editor of the Voice news, a love she inherited from her father who was Editor of the Wooster Daily Record.
Margaret earned her B.S. degree in Library Science at Case Western Reserve University and took further courses at the University of Chicago's Graduate Library School. Her first library job was as Librarian at Wooster High School. Later she was employed at Cleveland Public Library. From 1966 to 1969 Margaret was employed by the Cuyahoga County Public Library, and from 1969 until her retirement in 1980, she was Director of the Wayne County Public Library. Following her retirement, Margaret was involved in numerous service clubs and served on many community organization boards.
Margaret was much admired and made many life-long friends. She enjoyed nature, especially conservation causes and adored cats. She traveled extensively, embarking on adventures across numerous continents. She was an adult when illness caused her to become deaf. She continued to work, travel and volunteer throughout her life, and was ever gracious in the adversity caused by her disability. At her death she left small remembrances for friends, but the bulk of her estate went to charities and causes dear to her heart: research into deafness, nature preservation, and Wayne County. Her unrestricted gift to the Foundation was an expression of her love for Wayne County, and her confidence in its future—and a demonstration of her life long commitment to help others.
« All Current Funds
Latest News
WCCF's GIVE 365 Program Awards Grant
This year's GIVE 365 grant was awarded to the Boys and Girls Club of Wooster for their Collaborative Prevention Services for Youth in Wooster City Schools grades 5-12.
...read more
Wayne County Community Foundation Announces 2019 Spring Grants
The WCCF Board of Trustees approved grant awards to 16 organizations totaling $114,870.38 for the Spring competitive grant cycle.
...read more
Donor Stories
Supporting any of WCCF's funds is easy with online giving! The process is safe, simple and convenient; you may contribute at any time and from anywhere there is a web connection.