GIVE 365 Wayne County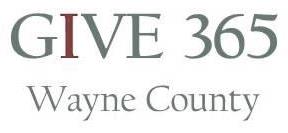 You can make a difference every day.
Give $365 – a dollar a day – to make
Wayne County a better place,
today and in the future.

GIVE 365 is a new initiative of Wayne County Community Foundation. The program brings together emerging philanthropists to make an impact on Wayne County, Ohio. Each year, we pool all of the GIVE 365 members' donations. As a member of GIVE 365, you get a vote, and your vote helps decide which projects in Wayne County will receive funds available each year.
Why GIVE 365?
GIVE 365 allows you to leverage your charitable contributions with others to support nonprofits throughout Wayne County. The larger the membership of the fund, the greater the impact.
Through GIVE 365, you will engage in philanthropy with your peers. You will share what you know, and you will learn about the issues facing Wayne County and the agencies that work to make our community a better place.
Who is eligible to join?
Anyone! Even those who are not interested in active membership, but want to support the program, can do so by sponsoring someone to participate (i.e. children, grandchildren, employees), providing matching grants to GIVE 365 awards, or by making a donation of any amount.
Once I join, what are my obligations?
Your only obligation, once you join, is to educate others about this opportunity. Members (ages 15 and over) can vote on annual grants to nonprofit organizations from the GIVE 365 Fund. Members may also serve on leadership teams, interface with nonprofit organizations, and network with other members throughout the year.
Membership Contribution
The annual contribution is $365 – a dollar a day, payable by June 30th each year. We offer one-time or quarterly payment options by check or online donation. All gifts are tax deductible.
Please include the GIVE 365 Membership Card with your gift either by U.S. Mail or via email: wccf@sssnet.com.

Where does my gift go?
Annual membership gifts, matches and general donations up to $3,649 are allocated 50/50 between the GIVE 365 annual grant fund and the GIVE 365 endowment fund.
Lifetime membership gifts of $3,650 or more are allocated at 5% to the GIVE 365 annual grant fund in the year received, and 95% to the GIVE 365 endowment fund.
The GIVE 365 endowment fund is a permanent charitable account where the principal is retained and reinvested. Every year, the earnings are used to provide charitable grants, in accordance with the Wayne County Community Foundation's spending policy. Over time the fund's balance will grow, as will annual income available for grant making. See the GIVE 365 Power of Endowment example for more detail on how the Fund can grow over time.

Sounds great, but I already support charities I care about.
And we hope you will continue to do so. GIVE 365 is in no way a substitute for directly supporting the causes and organizations important to you. GIVE 365 is an initiative to grow the impact of your charitable giving, to become involved in philanthropy in a way that might not be available to you individually. By learning together about the needs of Wayne County, members will be able to foster innovative solutions to local problems.
GIVE 365 Grants

If interested in the grant guidelines and application process, see GIVE 365 Wayne County Grants.
For more information about the GIVE 365 program, contact the Foundation at 330-262-3877.
Latest News
GIVE 365 to Address Mental Health in Wayne County Youth
GIVE 365 Wayne County is accepting grant applications from area nonprofits. This year's theme is "Mental Health and Wellness of Wayne County Youth". Application deadline is March 1, 2019.
...read more
WCCF Announces The Women's Fund Grant Awards for 2018
WCCF is pleased to announce the 2018 grant awards from The Women's Fund totaling $20,000.
...read more
Donor Stories
The children of Norma Jean Rhode and Kenneth George Charles Rhode established a permanent endowment fund to honor their parents' enthusiasm for life and emphasis on education.