Wayne County Community Youth Foundation
The Wayne County Community Youth Foundation (YF) was established in Fall 2012 to provide educational and practical experiences on how community foundations operate for the purpose of getting students engaged in local "structured" philanthropy.
Thanks to the vision and leadership of Mr. and Mrs. Stanley C. Gault, the Donald and Alice Noble Foundation, the Sam Shapiro family, and the Wayne County Community Foundation Board of Trustees, a Youth Foundation fund was created so students can evaluate community needs and make grant recommendations for local non-profit organizations that support Wayne County, Ohio youth.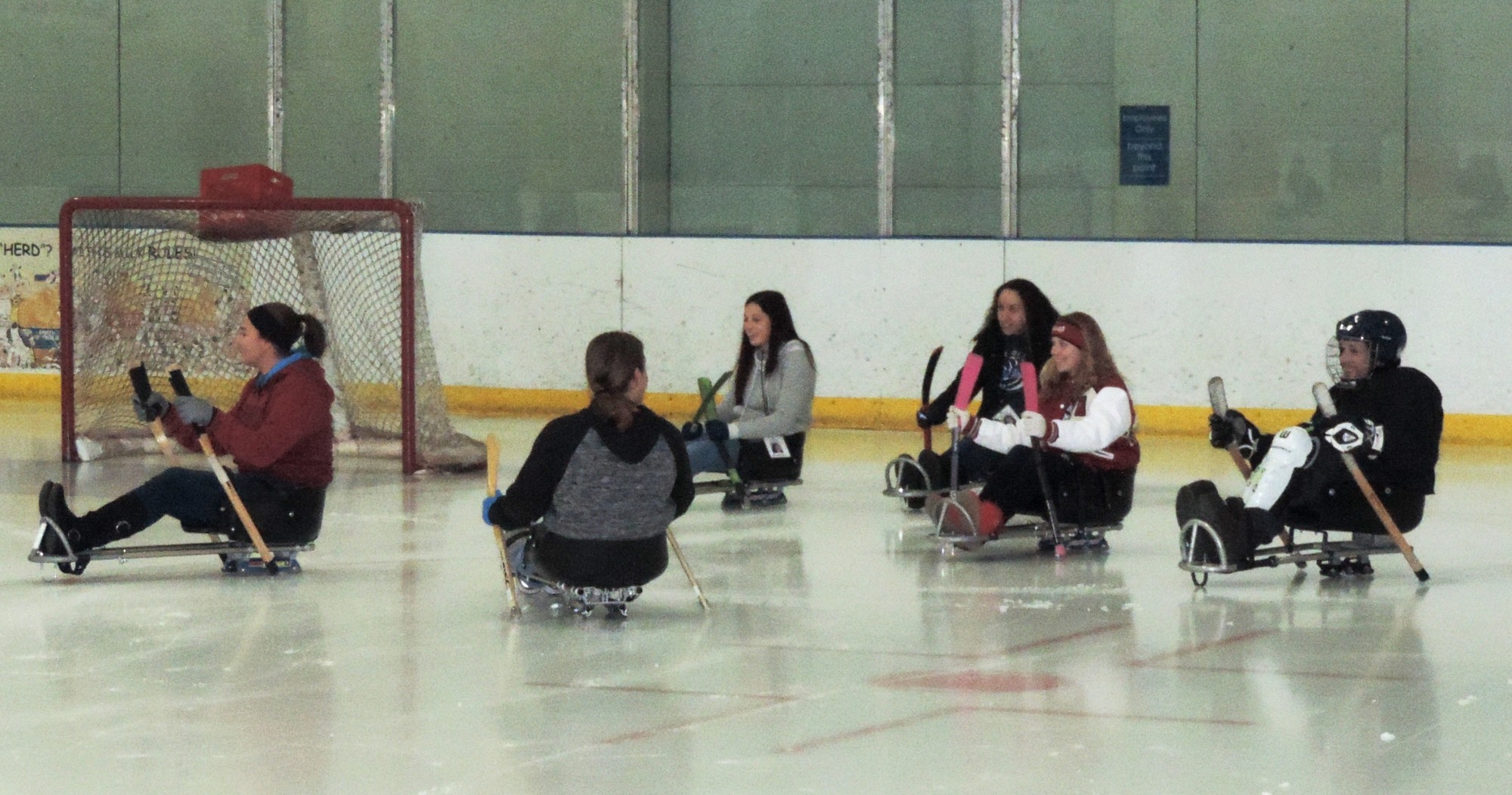 Youth Foundation students find out how challenging a game of sled hockey is at the Alice Noble Ice Arena, in Wooster, through the Adaptive Sports Program of Ohio.

During the school year, students meet monthly on a Sunday, from 2:00-5:00 p.m. (only the first meeting in August will be from 2:00-6:00 p.m.), at a non-profit organization to get a better understanding of why the organization exists and how it serves the community.
For the 2018-2019 school year, there are 49 students representing 8 local high schools. Ferenc M. Relle, Jr. is the Youth Foundation Advisor.
The Youth Foundation will meet on the following Sundays for 2018-2019:
August 19, 2018 January 6, 2019
September 16, 2018 February 3, 2019
October 14, 2018 March 10, 2019
November 11, 2018 April 7, 2019
December 9, 2018 May 5, 2019
Last year, some of the local non-profit organizations where the YF met included ABLE, Adaptive Sports Program of Ohio, Alice Noble Ice Arena, CAMO, Christian Children's Home of Ohio, OneEighty, Orrville Area Boys and Girls Club, Orrville & Wooster YMCA, People-to-People Ministries, Poplar Ridge Adventures, Red Cross, Salvation Army, The Village Network, Viola Startzman Clinic, Wayne Center for the Arts, and United Way.
Anyone can donate to the Wayne County Community Youth Foundation Fund through the Wayne County Community Foundation. For more information about the Youth Foundation call 330-262-3877.

If interested in the grant guidelines and application process, see Wayne County Community Youth Foundation Grants.
Latest News
GIVE 365 to Address Mental Health in Wayne County Youth
GIVE 365 Wayne County is accepting grant applications from area nonprofits. This year's theme is "Mental Health and Wellness of Wayne County Youth". Application deadline is March 1, 2019.
...read more
WCCF Announces The Women's Fund Grant Awards for 2018
WCCF is pleased to announce the 2018 grant awards from The Women's Fund totaling $20,000.
...read more
Donor Stories
Carl Congdon and Susanna Congdon-McIntyre's famous lineage has always been very generous with their time, resources, and talents to serve the Orrville community. In fact, the very first bequest the WCCF realized came from Maud Congdon.