Lacie Neal - Program Manager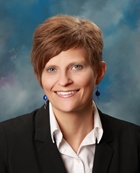 Lacie Neal joined the Wayne County Community Foundation in December 2011.
Lacie earned a bachelor of science in marketing and finance from the University of Rio Grande and a MBA in human resource management from Walden University.
Prior to the WCCF, Lacie was the Community Relations Director at The Village Network.
Active in the community, Neal is a member of Wooster Noon Lions and Wooster Lodge 1346 of the Elks. She also serves on the Board of Trustees for the YMCA of Wooster. She has participated in both Leadership Wooster, through the Wooster Area Chamber of Commerce, and Orrville Leadership Lab, through the Orrville Area Chamber of Commerce.
Latest News
Shapiros receive Wayne Community Foundation's Friend of Philanthropy award
Steve and Cheryl Shapiro were honored Wednesday night (Oct. 10, 2018) with the WCCF's Friend of Philanthropy Award.
...read more
Foundation marks 40 years, Shapiros to be honored
WCCF will celebrate its 40th birthday at the annual dinner on Wednesday, October 10, 2018.
...read more
Donor Stories
Supporting any of WCCF's funds is easy with online giving! The process is safe, simple and convenient; you may contribute at any time and from anywhere there is a web connection.