WCCF Celebrating 40 years: Williams to speak at Annual Dinner
June 12, 2018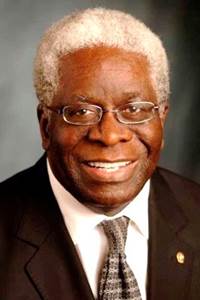 WCCF will commemorate its 40th birthday at the annual dinner on Wednesday, October 10, 2018. Designed to celebrate philanthropy in Wayne County, the annual dinner provides an opportunity to thank our many donors for their support, while sharing news of the Foundation with the community.
C. "Reggie" Williams will be the featured speaker at this year's event. A native of Orrville and a graduate of The College of Wooster, Williams brings a wealth of knowledge and experience in charitable giving and the non-profit sector. He currently serves as the Vice President of Advancement for Hallmark University in San Antonio, Texas.
Prior to joining Hallmark University, Williams retired from serving as the President and CEO of the San Antonio Area Foundation, where he guided the organization in accomplishing its mission of "…helping donors achieve their charitable goals for the greater benefit of the community." He has served on the Council on Foundations Community Foundations Leadership Team, as one of 15 elected members representing the nation's community foundations.
Reggie holds a Bachelor of Arts Degree from The College of Wooster; Master of Education Degree from Westfield State Teacher's College, Westfield, MA, and has accomplished Doctoral Study at Auburn University, Auburn, AL. He is a graduate of the Defense University's Armed Forces Staff College and the Industrial College of the Armed Forces, as well as numerous technical and business courses. After graduating from college, Reggie was commissioned as an officer in the United States Air Force. He retired from the Air Force with the rank of Colonel.
His accolades include being awarded the Alamo Chamber of Commerce's Lifetime Achievement Award, The College of Wooster Distinguished Alumni Award, and the San Antonio Area Foundation's recognition of naming its resource Library "The Reggie Williams Resource Library." In 2015, Williams was the Honorary Chairman of the San Antonio Martin Luther King Jr. Commission. Named among Orrville High School's Outstanding Alumni in 2015, Reggie was an accomplished athlete and has been recognized by induction into the Sports Halls of Fame of Orrville High School, Wayne County, and The College of Wooster.
Please mark your calendars now and plan to join us on October 10th. The event will be held at Lowry Center on The College of Wooster campus. Social hour begins with complimentary appetizers and beverages at 5:30 pm, followed by the dinner and program.
« Back to News
Latest News
Shapiros receive Wayne Community Foundation's Friend of Philanthropy award
Steve and Cheryl Shapiro were honored Wednesday night (Oct. 10, 2018) with the WCCF's Friend of Philanthropy Award.
...read more
Foundation marks 40 years, Shapiros to be honored
WCCF will celebrate its 40th birthday at the annual dinner on Wednesday, October 10, 2018.
...read more
Donor Stories
Carl Congdon and Susanna Congdon-McIntyre's famous lineage has always been very generous with their time, resources, and talents to serve the Orrville community. In fact, the very first bequest the WCCF realized came from Maud Congdon.