Ofori joins Community Foundation Board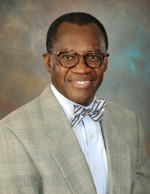 Mark Auble, President of the Wayne County Community Foundation (WCCF), announced the appointment of Dr. Cyril Ofori to the Foundation's Board of Trustees. Ofori will be representing the Wooster area on the 18-member Board, filling the seat vacated by J.C. Johnston, III earlier this year.
Dr. Ofori is a cardiologist practicing in Wooster, OH. He specializes in diagnosing, monitoring, and treating diseases or conditions of the heart and blood vessels and the cardiovascular system. These conditions include heart attacks, heart murmurs, coronary heart disease, and hypertension. He also implants pacemakers in addition to treating some heart rhythm disturbances. Dr. Ofori is also interested in preventative medicine, helping patients maintain a heart-healthy life.
His career in medicine began in 1987, when he graduated with his Medical Degree from the University of Ghana Medical School. He completed his internship at Harlem Hospital Center, a Columbia University affiliate, and his residency at Sinai Hospital, a Johns Hopkins University Center affiliate. His cardiology training was done in Pittsburgh at the Weston Pennsylvania Hospital, and then he subsequently was attending physician at the Cleveland VA Medical Center/UH and Case Western Reserve University.
Ofori then went into private practice and is currently the Chair of Cardiology and the Cardiovascular Institute at Wooster Hospital Health Systems and the Chief Medical Officer for Bloomington Medical Services, a 50-physician multispecialty group.
Ofori is generous with his time, both globally and locally. In Ghana, he volunteers with Africa Partners Medical (a Minnesota based organization) and has participated in numerous medical missions to Komfo Anokye Teaching Hospital, lectured at Korle Bu teaching hospital as well as is involved in teaching in the young physician's conference yearly. He also sees patients at Akai House Clinic and Euracare in Accra and remotely. Ofori and his wife, Dr. Amelia Laing, are co-founders and owners of the Obaatan Pa Women's Hospital in Ghana, a not-for-profit women's Hospital.
Locally, Ofori has served as an Adjunct Instructor at The College of Wooster. Additionally, he served as the Executive Director of the Wooster Chamber Music Series for ten years and on the Board of Directors for the American Red Cross in Wayne County.
« Back to General News Releases