Boyes joins Community Foundation Board, Matthew named Emeritus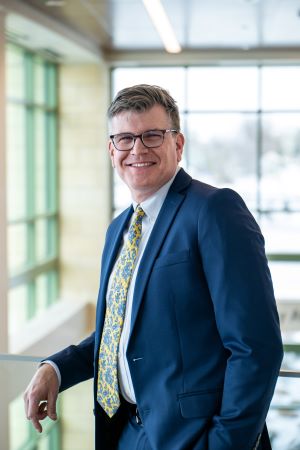 Wooster, Ohio:
Wayne County Community Foundation (WCCF) announces the appointment of Scott Boyes to the Foundation's Board of Trustees. Boyes will be representing the Wooster area on the 18-member Board, filling the seat vacated by Steve Matthew.
Boyes, a Certified Professional Accountant (CPA), is the Chief Financial and Operating Office for Wooster Community Hospital. He holds a Bachelor's Degree in Accounting and a Masters of Business Administration, both from The University of Akron.
Active throughout Wayne County, Boyes has served on the boards of Hospice and Palliative Care of Greater Wayne County (now known as Lifecare Hospice), Green Local Schools Board of Education, Startzman Clinic, and Wayne Economic Development Council. He and his wife, Susan, have three adult children.
At the May meeting of the Foundation's Board of Trustees, Steve Matthew was appointed as an Emeritus Trustee. Matthew began serving as a WCCF Trustee in 2009. He has since held a variety of roles in the organization, including service as President of the Board from 2014 to 2020 and as Chairperson of the Nominating Committee for the past three years. This most recent honor, Emeritus Trustee, is given to Trustees of the Board who have gone above and beyond in their commitment to the Foundation.
"We are excited to welcome Scott to the team. His experience and commitment to improving our community makes him an ideal addition," says Melanie Reusser Garcia, Executive Director of the Foundation. "And we are grateful that in his new role as an Emeritus Trustee, Steve will continue to be involved with the Foundation and that we will continue to benefit from his wisdom and perspective. We take great pride in recruiting board members who are highly engaged and dedicated to Wayne County,"
Since 1978, the Wayne County Community Foundation has been working to strengthen the community we all share. It is a nonprofit charitable community organization. Since inception, WCCF has returned more than $100 million in grants and scholarships to the community. For more information about the Foundation call 330.262.3877 or visit www.WayneCountyCommunityFoundation.org.
« Back to General News Releases